HD-LSZ/LSE Aircraft Lavatory Service Truck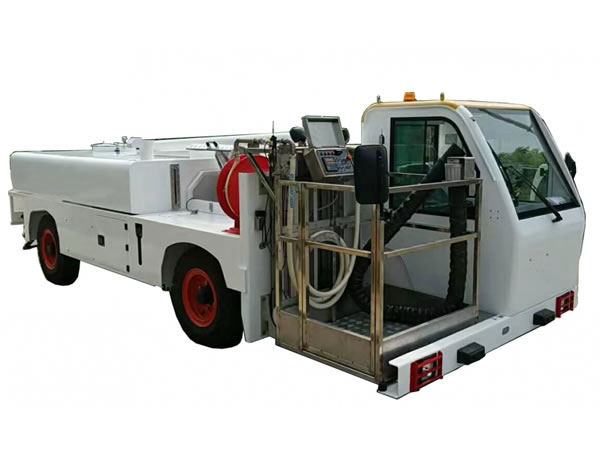 Description
The HD-LSZ/LSE aircraft lavatory service truck is a piece of airport ground equipment used for the discharge and cleaning of aircraft toilet sewage systems, and is widely used with Airbus A300, A310, A320, A330, A340, Boeing B727, B737, B747, B767, B777 and COMAC C919 aircraft.
We offer two series for customers to choose from: the HD-LSZ40 uses a self-made chassis, and the HD-LSE40 electric service truck uses an electric chassis.
Technical Specifications
Water Tank Volume: 4000L
Clear Water Tank Volume: 1300L
Sewage Tank Volume: 2700L
Recycled Water Tank Volume: 240L
Water Flow: 150L/min
Water Pressure: 0.3-0.5Mpa
Boundary Dimension (Length x Width x Height): 5868X2292X2100mm
Maximum Speed: 40km/h
Under-pan Manufacturer:Self-made
Platform Lifting Height:Platform Lifting Height
Tank Material/Thickness:SUS304/3mm
Channel Circular Diameter:Channel Circular Diameter
Technical Specifications
| | | | | |
| --- | --- | --- | --- | --- |
| Project Parameter | LSZ40A Configuration 1 (EURO 3+PST2) | LSZ40B Configuration 2 (EURO 4+PST2) | LSE40A Configuration 3 ( Lead-Acid Batteries - Electric Water Truck) | LSE40B Configuration 4 (LiFePo4 Batteries- Electric Water Truck) |
| Engine Manufacturer/Model | Beiqi Foton Motor/QSF2.8T372HP | Beiqi Foton Motor/QSF2.8t4T65H | / | / |
| Power(KW)/Battery Capacity | 43AH | 48AH | 72VD500 | 600AH |
| Nominal Voltage | 72V | 72V | 72V | 80V |
| Curb Weight | 3080kg | 3090kg | 3250kg | 3160kg |
| Under-pan Wheel Base | 2900mm | 3360mm | 3815mm | 3815mm |
| Ground Clearance | 200mm | 200mm | 180mm | 180mm |
| Engine Emission | EURO 3 | EURO 4 | / | / |
| Gearbox Model | 3357433CX(PST2) | 3357433CX(PST2) | / | / |
Feature
Structural Characteristics
1)The water tank is composed of a flushing tank (middle), a sewage tank (back), a vacuum pump circulating tank (front) and a tank buffer. Although the three tanks are integrated, they are completely isolated from each other.
2)The HD-LSZ40 aircraft water truck's self-made chassis has strong carrying capacity and a durable structure layout. It also uses fuel instead of an electric power source.
3)The lifting range of the platform is 400 ~ 2800mm, which can meet the working height of most existing aircraft.
4)The HD-LSZ/LSE aircraft lavatory service truck's control system is safe and reliable, using an IC or CUMTIS electric control system.
Material Characteristics
1)The water tank shell is corrosion resistant and easy to clean. It is made using a 0Cr18Ni9 heat-resistant stainless steel and argon arc welding. The thickness of the material is 3mm.
2)The stainless steel carriage features an attractive appearance, thanks to a 3 layer painting process, including a primer, intermediate coat and top coat painting.
3)All operating switches, plugs, and circuit boards have a long working life because they are all water-resistant.
Function Characteristics
1) The water tank can be turned into an insulation water tank based on different customer needs.
2) The vacuum pump sewage system is driven by hydraulic motor in order to provide an efficient, convenient cleaning service for the aircraft sewage tank.
3) The stainless steel pump driven by the hydraulic motor supplies cleaning solution for the aircraft sewage tank and aircraft lavatory service truck.
4)This aircraft lavatory service truck use an electric pump to drive a hydraulic motor, a solenoid valve to control the movement and direction of the motor and an electrical system to control the water supply.
5)This aircraft lavatory service truck uses a lead-acid battery pack with a long service life, large power supply and high efficiency.
Parts