Electric Baggage Towing Tractor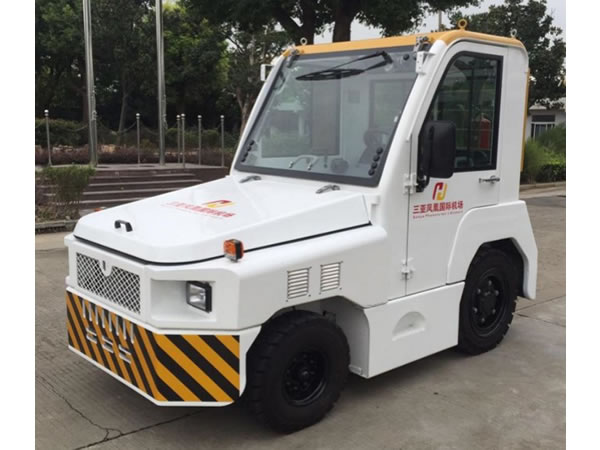 Description
The HD-BTE25/30 electric baggage towing tractor provides traction service for luggage, goods and mail during the handling process of aircraft, and is primarily used in traction work in airports, ports, wharves, stations, warehouses, industrial and mining enterprises and other fields.
The main components of the tow tractor are body, battery pack, motor, power rear axle, braking system, steering system, suspension system, cab, electrical system, and traction plug device.
Features
This electric baggage towing tractor's power driven system uses a power supply that is environmentally friendly and pollution free.
The integral tractor frame ensures that the tow tractor has an excellent stability and safety.
The 80V 600AH iron phosphate lithium battery in the tow tractor can easily handle long-distance, large freight traffic volume, and steep slopes due to the strong power, high power and high torque which is output by a power rear axle gear box.
This electric baggage towing tractor uses a special trailing arm independent suspension structure.
The electric control system uses a CURTIS AC controller from the United States, which converts kinetic energy into electric energy, storing it and continuously adjusting the speed when braking.
The electric baggage towing tractor uses a PMP drive system from Italy to drive the integrated bridge or PMP dual-motor drive rear bridge to produce large output torque.
The electric baggage towing tractor can be safely and smoothly towed and run due to the use of a coil spring suspension and hydraulic cylinder shock absorber.
The hydraulic system helps the recirculating-ball steering to run and the whole operation is light and reliable.
The cab surface is painted in a 3 coating electrophoresis process, ensuring it is pollution free and corrosion resistant.
Technical Specifications
| | | | |
| --- | --- | --- | --- |
| Model | BTE25A | BTE25B | BTE30 |
| Battery Pack (Type) | Lithium Iron Phosphate Battery Pack (2 groups) | Lithium Iron Phosphate Battery Pack(1 group) | Lithium Iron Phosphate Battery Pack(1 group) |
| Battery Capacity | 600AH | 600AH | 650AH |
| Maximum Traction | 20km | 25km | 35km |
| Battery Life | 100 km/5 h | 120 km/6 h | 120km/6 h |
| Charge Time (H Single/Double Gun ) | 1.5/3.0 | 1.5/3.0 | 1.5/3.0 |
| | | | |
| --- | --- | --- | --- |
| Speed (FULL/EMPTY) | 20/25 km/h | 10/25 km/h | 16/30km/h |
| Maximum Speed | 25 km/h | 30 km/h | 37 km/h |
| Length | 3139mm | 3050mm | 3050mm |
| Width | 1480mm | 1468mm | 1468mm |
| Height(No Shed/ Shed)) | 1800 mm(shed) | 1450/2000 mm | 1450/2000 mm |
| Weight | 3900 kg | 3400 kg | 3700 kg |
| | | | |
| --- | --- | --- | --- |
| Front Axle (Independent Suspension) | TD25.102A/HaiYuan | TD25.102A/ HaiYuan | TD25.102A/HaiYuan |
| Rear Axle (Drive Axle) | Electric Vehicle Drive Axle:PMP Complete Rear Axle | Electric Vehicle Drive Axle):PMP Fission Rear Axle | HY465ZG1 Drive Axle |
| Electric Drive Mode | Battery Power -Drive PMP Complete Rear Axle | Battery Power-Drive Motor -PMP Gearbox Fission Rear Axle | Battery Power-Drive Motor-Two Speed Gearbox -Transmission Shaft -Drive Axle |
| Drive Motor Brand/ Specification | KDS /YQD10 | KDS/ YQD10 | KDS/ Q23 |
| Electronic Control System | CURTIS AC Controller | CURTIS AC Controller | CURTIS AC Controller |
| Ground Clearance | 150 mm | 150 mm | 150 mm |
| Minimum Turning Radius | 2700 mm | 3000 mm | 3000 mm |
| Wheel Base | 1500 mm | 1600 mm | 1600 mm |
| Drive Motor Rated Output | 80V/14KW | 80V/10KW | 80V/23KW |
| Rated Torque | 3000 N.M | 2700 N.M | 1500 N.M |
| Rated Speed | 3500 RPM | 3500 RPM | 2800 RPM |
Parts display